Riding a wave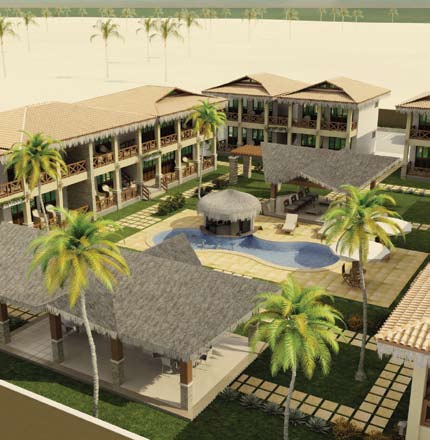 These days, it doesn't take long for property development to follow in the wake of tourism. With the appetite of property investors for new virgin territories so strong – and that of property developers even stronger – it's not surprising that the rise of northeast Brazil as a tourist and surf destination is about to be followed by a property boom.
While visitors are drawn especially by the charm and chilled atmosphere of pousadas (small privately owned hotels), large hotel groups are starting to develop resorts complete with golf courses, spas and, no doubt in the near future, marinas and the like. The early visitors, including surfers, have snatched up many of the local coastal properties on the market, as well as land.
In a place where frontline beach land is still available, and affordable, many opt to buy a piece of land and see what they'll do with it later, but it also means that private developers can build small-scale projects of two-bedroom apartments that go for anywhere between €40.000 and €160.000, depending on the location and standard.
"Land prices range between 1 and 150 Reais (€0.40 - €60) per square metre," says Frank Walsh, who saw the potential when he first visited the coast while on an extended surf vacation. Frank, who is one of the owners of the Mezcla bar in Tarifa, has witnessed the boom in the Spanish property market and now sees many of the same telltale signs in Brazil. "Prices, both property and cost of living, have rising a lot, and will continue to do so as more and more people visit and buy here, but it's still a lot cheaper than Europe. What is rather expensive is the flight, but since most people come for 2-3 months rather than 2-3 weeks those costs are easily amortised." So impressed with the place and its potential, he has bought some land and entered into a joint venture with some highly respected local architects. "My life is in Tarifa, but I do see myself spending more and more time in Brazil. I think it's really about to take off in a big way."
Frank represents a group of Brazilian architects called UDG – Brasil, who have been designing, managing and selling properties for the past 10 years in this region, and who have joined with Tarifa Direct to promote properties all along the north-east coast of Basil. Contact 622 785 143 or via the website: www.brazildirect.org